After 5 months of development the MATE Desktop team are proud to announce the release of MATE Desktop 1.12. We'd like to thank every MATE contributor and user.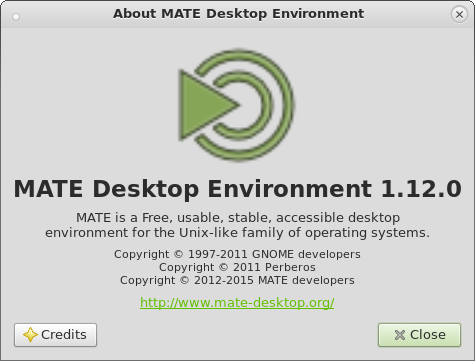 What's new in
MATE

1.12

The headline changes in MATE 1.12 are:
Fixes and improvements for

GTK3

support across the entire

MATE

Desktop including

GTK

3.18 support.
Touchpad support is significantly improved and now features multi touch and natural scrolling.
Multi monitor support has been improved so the display settings use output names and the revised

UI

lets you set the primary monitor.
The power applet now displays model and vendor information so you can distinguish between multiple battery powered devices.
Improved session management which now includes screensaver inhibition while playing media.

MATE

now listens to the org.gnome.SessionManager namespace.

Extended systemd support.
Long standing bugs and many little usability paper-cuts were fixed.

For example, panel applets are no longer reordered when changing screen resolutions.

Translations updated and a number of components now retrieve strings directly from gschema (requires intltool 0.50.1).
Dropped support for win32 and osx.
The various components of MATE 1.12 are available for download here:
Screenshots
Changelog
Here is a more detailed break down of what has changed.
mate-common
Support lcov 1.12
Update documentation and examples
mate-desktop
Require dconf 0.13.4 and xrandr 1.3
Add gsettings key to toggle overlay scrolling in

GTK

+3
Add some icons to fix missing icons in

GTK

+3 with custom icon theme
Mouse schema: enable middle-click emulation by default

RR

: implement missing mate_rr_output_get_possible_crtcs function

RR

: fix laptop identification by output name

RR

: show output name in addition to display name
Moved docbook user guide to a separate project
Dropped dependency on yelp (not needed after moving user guide)
libmatekbd
Add GObject introspection
Layout view/print dialog: remove useless Help button
Layout view/print dialog: some

UI

fixes
libmatemixer
oss: Only use modify counter for polling on Linux, it is broken on BSDs
alsa: Fix

FTBFS

with old versions of

ALSA

alsa: Fix fade
libmateweather
Location updates for timezones
mate-icon-theme
Don't build a pkgconfig file
Caja
Connect to server dialog: add support for

AFP

Improve multi-monitor support
mate-polkit
Add support for

GTK3

application indicators.
Marco
Add manual and by-pointer window placement
Use Alt-` for switching between windows of the same application
mate-settings-daemon
Add new keybinding for logout (empty by default)
Touchpad settings: added support for natural scrolling, 2 finger and 3 finger clicks
Mouse: use syndaemon -K to ignore Ctrl+C and other combos

GTK

+3: make xrandr tray applet support custom panel themes
mate-session-manager
Add support for an optional dock, such as Plank
Add support for new libsystemd in addition to existing libsystemd-login
Only wait 1 second max on logout/shutdown
Turn

GTK

+3 overlay scrolling on/off on start using new gsettings key
mate-menus
Use pkg-config to check for python (requires python 2.7)
mate-panel
Require xrandr 1.3
Add option to enable/disable week numbers in calendar
Fix positions of locked applets on screen resolution change

GTK

+3: add a style class for applets to follow panel-menu-bar
mate-themes
GTK3

all themes: style volume/brightness applet slider
Assorted improvements and refinements for all themes, in particular for

GTK

3.18.
mate-notification-daemon
Fix height and visibility of themes in gtk3
Multiple theme fixes
mate-control-center
Appearance: restored Interface tab
Display: added support to set the primary monitor
Display: show output names in addition to display names
Keybindings: added keybinding for logout
Touchpad settings: add option to enable/disable touchpad
Touchpad settings: added support for natural scrolling, 2 finger and 3 finger clicks
Improved categorization

GTK

+3: fix font rendering in Appearance and mate-font-viewer
mate-screensaver
Add support for libsystemd in addition to existing libsystemd-login support.
Don't fade to black when locking the screen
Fix systemd event handling
mate-media
Multiple fixes in manpages

GTK

+3: add style classes for slider and menu for volume-applet

GTK

+3: fix missing icons with custom icon theme
mate-power-manager
Require xrandr 1.3
Show vendor/model information for devices
Fix backlight adjustment on Macbook Pro

GTK

+3: support custom themes

GTK

+3: fix brightness applet behavior
mate-system-monitor
SysInfo: add proper detection for Linux Mint and

LMDE

SysInfo: let distributions define custom side image
Interface: add border to notebook
Add support for libsystemd in addition to existing libsystemd-login support
Support build with C++11
Drop useless dependency on mate-icon-theme
Drop C89 support
Atril
Drop support for win32, osx and hildon
Drop useless mate-icon-theme dependency
Drop embedded MathJax in favor of using a distribution packaged version
Make smclient mandatory
caja-extensions
Engrampa
Fix ngettext usage in progress dialog
Make extracting multiple archives to a separate dir actually work
Fixed overwrite check when the files to be extracted are inside a folder
Eye of
MATE
mate-applets
Accessx-status, geyes: have applet background automatically painted
Cpufreq: make cpupower the default library
Drop useless dependency on mate-icon-theme

GTK

+3: fix missing icons with custom icon theme

GTK

+3: make cpufreq, charpick and drivemount support custom panel themes
mate-netbook
Window Picker Applet: have background automatically painted
mate-netspeed
Have applet background automatically painted
Add silent rules
mate-sensors-applet
Add support for nvidia thermal and cooler sensors (requires libxnvctrl >= 256.25)
Add mbmon plugin
Make udisks plugin poll for new value
mate-terminal
Fix —tab option that has been broken in 1.10.0
Enable silent rules by default
Drop support for win32 and osx
mate-user-share
Drop useless dependency on dbus-1
Drop Apache 2.0 support
mate-utils
Add application icon to mate-system-log
Add timestamp instead of window name to screenshot filenames by default
Have dictionary applet background automatically painted
Translation fixes for gsettings schemas
Mozo
Enable startup notification
Add silent rules
Pluma
Add --enable-tests option to enable/disable running tests during the build
Add plugin to strip trailing spaces on saving
Bring back active plugins listing in bugreport script
Drop support for win32 and osx and the checkupdate plugin
Capitalize Pluma in window titles and desktop file

GTK3

. fix print-preview
Some annotation fixes
caja-dropbox
Adjust the default caja extensions dir
Include autogen.sh in tarball